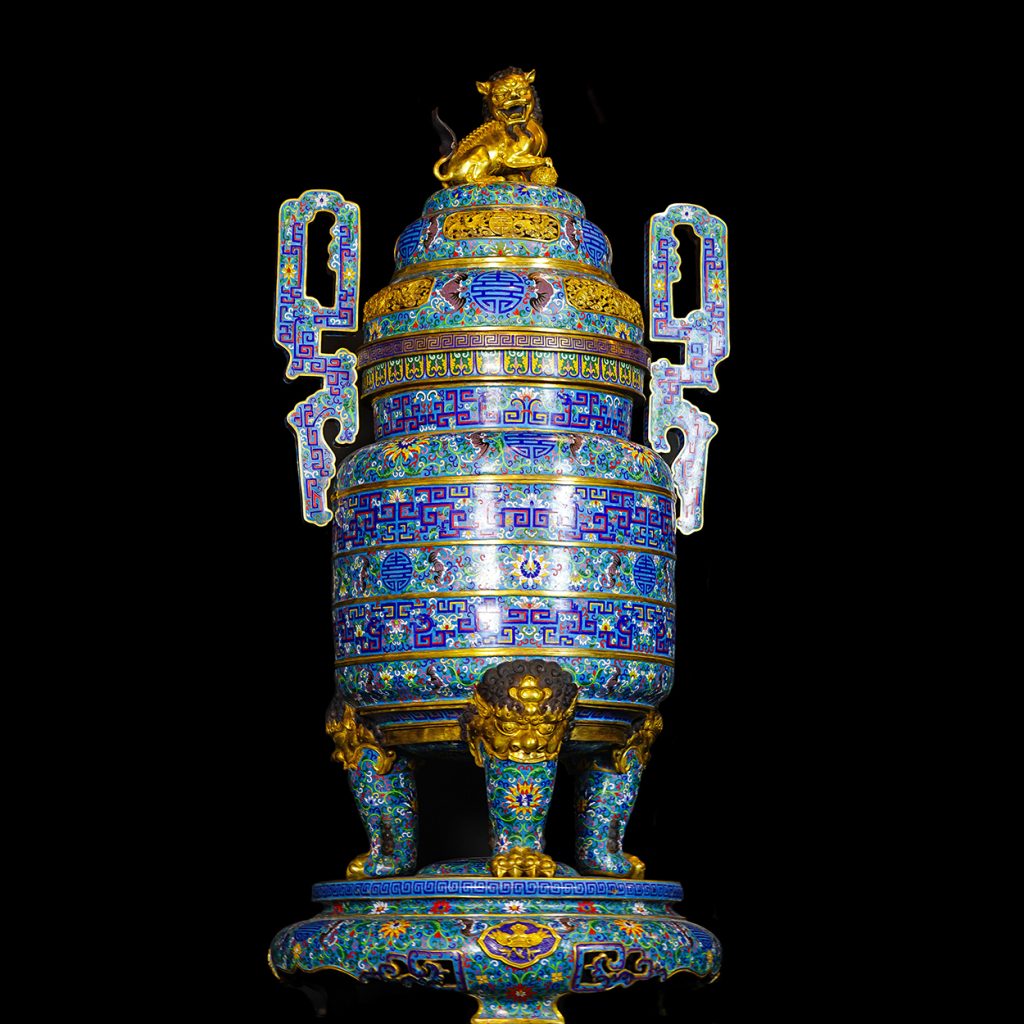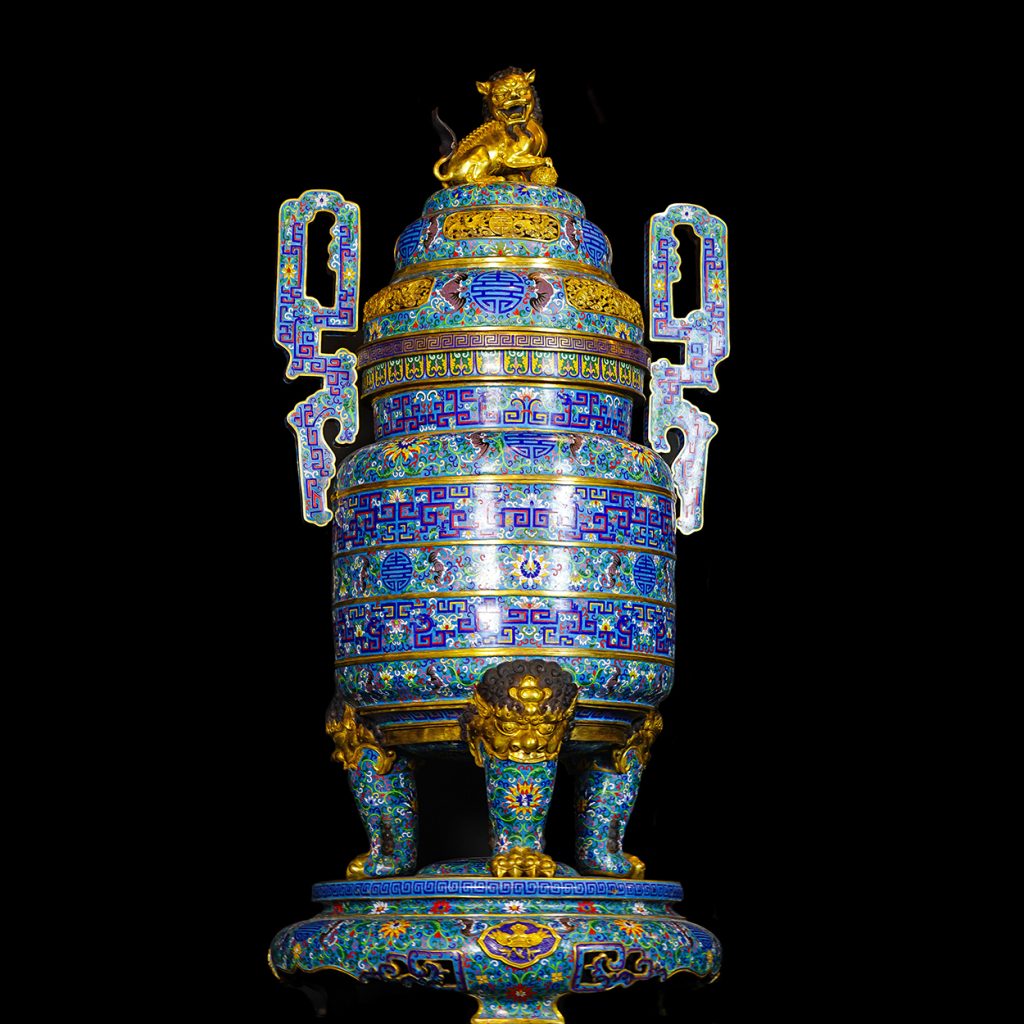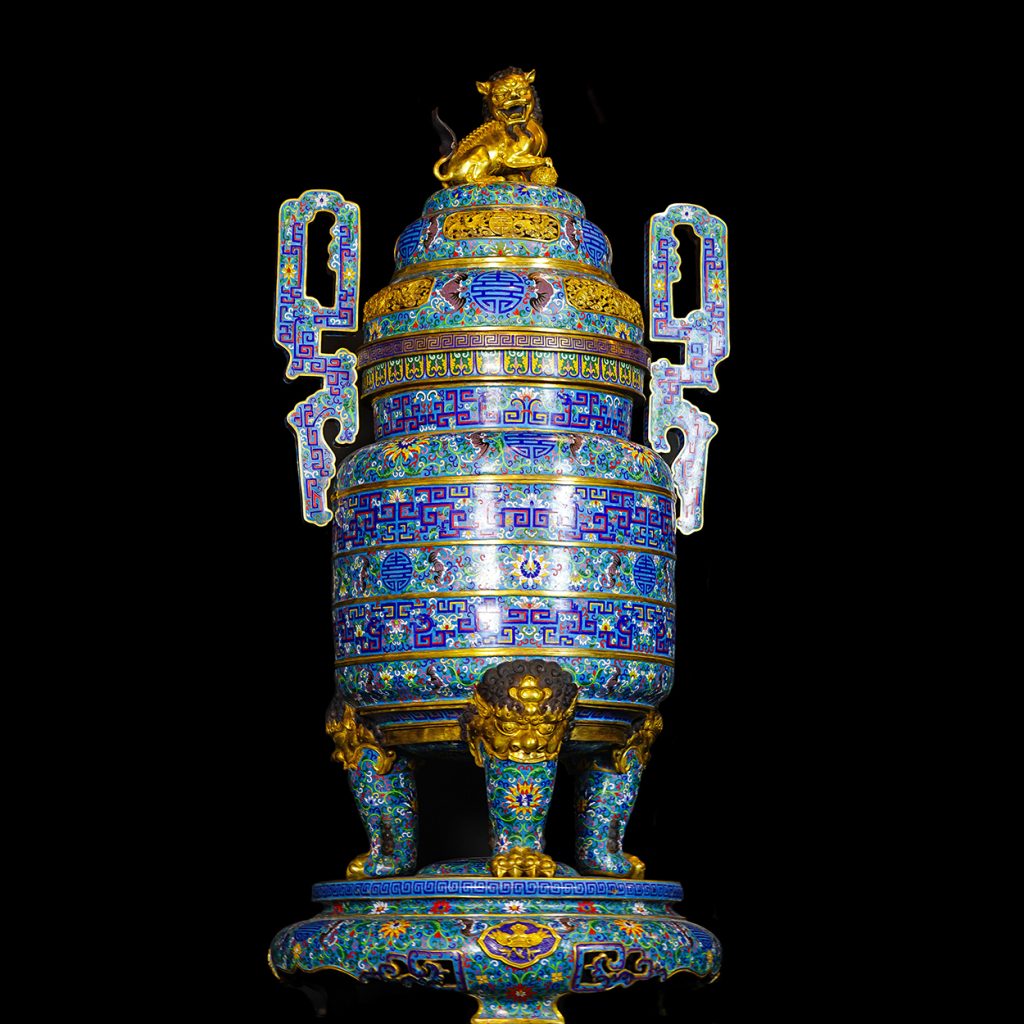 Longevity Furnace | Copper Body Gilt Cloisonne Enamel
The "Bronze Body Gilt Cloisonne Enamel Longevity Furnace" is mainly based on Chinese longevity culture, with bat patterns and longevity characters all over the body, continuing the Chinese custom of praying for longevity, prosperity, and prosperity. The Wanshou Furnace is modeled on the shape of the ancient Ding Furnace and cast with royal cloisonné enamel technology. value.
It uses blue enamel glaze as the ground, adopts the light tones popular in the mid-Qing Dynasty, and moderately adds gold-plated decoration as the finishing touch, which makes the whole body of the incense burner look elegant and light. Luxurious style. The Wanshou furnace is divided into three parts: the furnace cover, the furnace body, and the furnace feet. The circular furnace cover expands three layers from top to bottom, and the cover button is engraved with "lion rolling ball", reflecting the auspicious blessing of the saying "lion rolling hydrangea, good things come later." The lower three layers are made of gilt hollowed-out blessing and longevity patterns with cloisonné enamel blessings and longevity patterns. When the incense sticks out from the hollowed-out longevity patterns and bat patterns, it can form a blessing and longevity.
The furnace body of the Wanshou furnace is slightly straight cylindrical, and the shoulder and neck of the furnace cover are decorated with a circle pattern, and there is a circle of banana leaf patterns and a circle of twisted branches and circles on the bottom. Industry, longevity is boundless. There are also dazzling double-kui dragon ears hanging on the left and right here. The surface is winding with tangled flowers and square fringes, symbolizing the endless divine power of the king. The belly of the furnace body is composed of a five-layer pattern, which is bounded by a copper gilt border. The longevity pattern of the tangled passionflower and the Wanfu Kuilong pattern are separated from each other, showing the Chinese culture of blessing and longevity that has been passed down for thousands of years and nourishing historical connotations.
The "Bronze Body Gilded Cloisonné Enamel Longevity Furnace" is extravagant, and the body of the furnace is supported by the beast swallowing three legs. The bronze body gilded lion head and beast feet are handsome and brave. They can guard the years and dispel evil spirits. Heaven and life are immeasurable. Finally, the bottom of the longevity furnace is equipped with a cloisonné enamel lotus seat, and the decoration is the same as that of the incense burner as a whole, which makes the momentum more magnificent and shows the royal bearing.